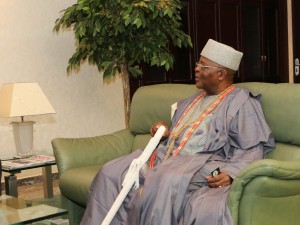 ADETONA Sikiru Kayode, The Awujale Ogbagba II of Ijebuland. During the 1960s crisis in the Western region, Adetona expressed views which were adverse to the Obafemi Awolowo camp. A chief of his royal court, E.O. Okunnowo, had crossed path with former Premier and party leader Awolowo, and he, Adetona, had a personal relationship with Awolowo's lieutenant and principal rival, Ladoke Akintola's daughter. An attempt at reconciliation between the Awujale and presidential candidate Awolowo in Bisi Onabanjo's Ijebu-Ode residence in 1979 broke down. Adetona's position on the June 12 debacle, according to him, was unequivocal, and he was believed to be affiliated with NADECO, the main anti-Abacha, Nigeria's military Head of State's opposition group of the day.
When Adetona became the Awujale he was only twenty-six years old. With older and experienced chiefs his influence was naturally limited in the initial. Because of his traditional position, he was co-opted as permanent member of the Western region House of Chiefs. He was also appointed into the cabinet of Ladoke Akintola. As tension ran high in events leading up to the Civil War, he acted alongside Alake Lipede as emissary of Head of State Yakwubu Gowon to Hassan Katsina in the north and Odumegwu Ojukwu in the East. In 1989, he was appointed Chancellor of the Federal University of Technology, Yola. Sometimes after the expiration of his five year tenure, the Crescent University in Abeokuta appointed him Chancellor. In 1990, he served as envoy of Ibrahim Babangida, Nigerian military president to South Africa, in an effort to appease Chief Buthelezi, head of the Inkatha Movement which was opposed to Nelson Mandela's Africa National Congress.
 
Origin
S.K Adetona originates from the Anikilaya ruling house of Ijebu Ode, his father, Rufai Adetona was born c. 1902 to Ogbagba Adeleke I, who reigned as Awujale from 1895 to 1905. Adeleke's wife, S.K's paternal grandmother had been married to a past Awujale, Adesimbo Aboki Tunwase and with the death of Tunwase in 1895 had, in adherence to custom, married the successor, Adeleke, with whom she had Rufai, S.K's father. On the mother's side, S.K Adetona's mother belonged to the Onashile family in Ijebu-Igbo, a member being Oyin Onashile, later Mrs. Oyin Adenuga, mother of Globacom Chairman, Mike Adenuga.
 
Places of Growth
From his father's house at Imupa, Ijebu Ode, Awujale Adetona made frequent visits even as a child to his grandmother at Ijebu Igbo. He was at Ereko Baptist School, Ijebu-Ode, and when an uncle found him loafing at his grandma's, enrolled him at Ogbere United Primary School where he was for two years before returning to Ijebu-Ode to finish his primary education at Ansar-Ud-Deen Primary School. Believing his elementary education to be sufficient, there was need to disabuse his juvenile mind. Abraham Adesanya, a lawyer from Ijebu-Igbo who later became a frontline southwest political leader took him to Oluiwa College from where he graduated in December 1956. After secondary school he stayed with his aunt at Ibadan, Mrs. Oyin Adenuga who helped with getting his first job.
 
Childhood
Childhood bubbled with playful communal activities. In some days, children changed as Elepete, or masquerade. Moonlight games known as Epo ya yu, and other pranks followed in the evenings. Weekends were for swimming and fishing at Igbabeto village in Ijebu Ode, with boys lined up in a procession on their way back to town. Easter pranks were to end for him one year with a street fight which had him escape home beneath his mother's bed. Eriwe was celebrated in Easter, with all day fishing to commemorate the ressurection of Christ and his appearance at the river. Muslim Ileya was celebrated with huge fanfare, and there were lot of dancing at Itoro during the festival.
 
Family
S.K Adetona's father, a prince born to Awujale Adeleke during his reign, met Ajibabi Onashile on a trip to Ijebu-Igbo. In defiance of the opposition from Ajibabai's family, which led to a court case, the two got married. When Adetona's grandfather who was Awujale died, his own father, though qualified by tradition to succeed him, passed on the crown to his own son. As a new Awujale, Adetona married Iyabo Oke from Ijebu-Ode. Their first child together, Mohammed Suud Adedire was born while he was away on pilgrimage at Jeddah. Adetona later married Modupe Ekundayo, and Oluwakemi Dodo-Williams. In all, he had more than seven children and several grandchildren with whom, in his account, he shared better relationship.
 
Education
Adetona received his secondary education at T.A. Odutola's secondary school. Oluiwa College, Ijebu Ode. He took the ACCS exams and prepared with the Rapid Results College tuition. In 1958, he resigned the appointment from the Audit Department of the Western region which he got months after completing his secondary education, to go study Accountancy in the UK. His selection to the Awujale stool caught into the program but he finished in 1962.
 
Reign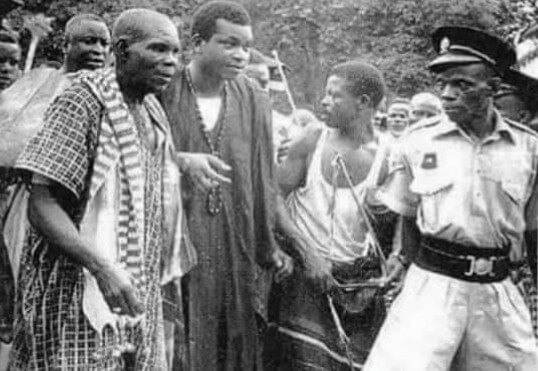 Awujale Adetona's long reign caused him to witness several successions of civilian and military administrations in the Western region, and Ogun state after its creation in 1976.  As a member of cabinet in the Western region under the premiership of Ladoke Akintola, and permanent member of the House of Chiefs, he witnessed firsthand, the intrigues which captured southwest politics. Adetona was part of the committee of Yoruba leaders with a self-mandate to intervene. Also included in the committee were Olateru Olagbegi the Oba of Owo, Isaac Akinyele of Ibadan, and Adetokunbo Ademola who was the Chief Justice. Also, T.A. Odutola's attempts at reconciling Awolowo and Akintola before escalation of the crisis which snowballed first to an emergency government in the west, headed by Dr. Majekodunmi and then, military takeover of power in Lagos.
Bisi Onabanjo became governor of the three year old Ogun State when power was returned to civilians in 1979. Frosty relationship between Adetona and Onabanjo, a carryover of misgivings from past political dispensation, led to the announcement of Adetona's deposition, a decision which will be overturned by the court as the military again took power in 1983. Ten years later, when results of presidential election of June 12 that should have returned the country to democratic rule was threatened by Ibrahim Babangida's regime, Adetona parleyed Obas like Lamidi Adeyemi III the Alaafin of Oyo, Okunnade Sijuade the Ooni of Ife, and Adeyinka Oyekan of Lagos in registering their displeasure. Adetona was also one of the key traditional rulers invited to observe video evidence of Diya's complicity in alleged coup of 1997 against Sani Abacha, the Head of State. Diya, an Ijebu man, whose acquaintance he enjoyed during his governorship in Ogun State as military administrator, escaped the nooseman with the death of Abacha.
 
Travels
Adetona resigned his appointment in 1958 to go study Accountancy in the UK. In London, he stayed at his uncle's apartment at Portnall Road. While settling down to business, the news came of the death of Awujale    Gbelegbuwa II. Early in 1960, he returned to Nigeria to begin rites preparatory to his coronation as the new Awujale. Two years later he went on a pilgrimage and fact-finding mission in the Middle East for his education. During this trip, he enjoyed the hospitality of the Jordanian king, and got an invitation to stopover, from the Israeli government. "While the Jordanians, at that time, complained about the difficulties of life,' he wrote in his autobiography, 'Israelis, their neigbours, were busy turning the desert into fertile soil and making sea water drinkable." Same trip was followed by a visit to Switzerland and England where he completed the course which he commenced in 1958. As the Awujale, Adetona made frequent visits to the UK to attend to his health. An attempt by the military administration of Col. Oluwole Rotimi, governor of the Western region, to curtail the movement of traditional leaders outside their domain was rebuffed by him.
 
Motivation
As a schoolboy, Adetona regarded T.O.S. Benson, a politician of the first republic as his hero, mostly due to Benson's colorful personality. Fate would later dangle before him a prospect in Accounting, the study of which he decided to pursue following the feats of his colleagues at work whom he regarded as achievers. When appointed Awujale, he recounts, he was schooled in the background of his office with a view of motivating him to raise the status of the traditional office that had been in decline. 
 
Awujale: The Autobiography of Oba Sikiru Kayode Adetona Ogbagba II, Mosuro, Ibadan, 2010