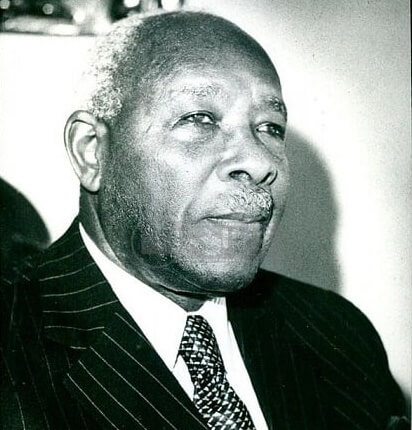 ADEMOLA Adetokunbo, Doyen of Nigerian Judiciary. Ademola was the last Chief Justice of Nigeria appointed by the colonial authorities, thereafter the longest indigenous Chief Justice of the nation, serving fourteen years from April 1958. He was thus leader of the judiciary both during the nation's joys of independence and in her worst moments of crisis. Although fate did not confer on him the difficult responsibility of asserting the judiciary's right to pronounce upon the validity of laws passed by the legislature, his own contribution to the fundamentals was in the resistance of interference with the independence of the judiciary. Asides the founding, with Dr. T.O. Elias, of the Nigerian Law School, he is reputed for setting up the Supreme Court in the way it is till modern times.
 
Origin
Ademola, prince of the Jibodu royal family of Ake was the first son of Sir. Ladapo Ademola, Alake of Egbaland, Ake being a major quarter of the Egba, the chief of which (called Alake) is paramount in Egba. His mother, who is of Ikija origin, Tejumade, was the elder sister to Adeyemo Alakija, a successful lawyer and member of the Aguda or Yoruba American returnees, in this case Brazilian, where their family name, before indigenization, was Assumpcao.
 
Places of Growth
Adetokunbo Ademola was born on 1st February, 1906 in Ake, Abeokuta. After living his first four years in Lagos he was returned to Abeokuta to live with his maternal grandfather, who was father of Sir Adeyemo Alakija. In 1911 he was enrolled at the Roman Catholic school at Itesi Abeokuta. He continued his primary education at Holy Cross School when he went back to his mother in the family house close to the old Supreme Court at Tinubu Square, Broad Street, Lagos. With the outbreak of influenza in 1918, and the closure of school, Ademola went to stay with his maternal uncle, Adeyemo Alakija, where he was home schooled and later to another uncle, Olayinka Alakija. When the epidemic was over he went to St. Gregory's Grammar School where he spent one year before enrolling at the King's College, passing out in 1925. Two years later, Adetokunbo sailed to Britain in pursuit of studies in law.
 
Travels
From Lagos to Abeokuta and back, Adetokunbo lived with prominent members of his mother's family. In the middle of 1927 he left Lagos on board a steamship for England to study, arriving in June 18th at Plymouth, a port city, 237 miles from London which he reached by train. Most of his holidays while in Cambridge, he spent with his British friend, Abington, in the London suburb, Hampstead. He returned home to Nigeria in 1934 and practiced in various divisional courts in Lagos, Ijebu Ode, Benin, and Warri provinces.
 
Relationship
Childhood
His biographers described him as a playful child who was however fund of learning. His friends in the primary school attested he had good memory. When he was barely a teenager his father became the Alake, an important traditional aristocrat. Whether this familial elevation was telling on his life style is not sure, but he was, according to reports gathered by Folarin Coker, his biographer, said to look neither rich nor poor. Although he was not apt in Latin, his love for literature was apparent, and he contested the wish of his father for him to study medicine.
 
Family
In 1937, Adetokunbo got engaged to Kofo Moore, daughter of the Lagos lawyer Eric Moore whose acquaintance he had made while in England. In January 31st 1939 they got married at the Cathedral Church of Christ in Lagos. His first child, Ronke, worked in Shell, from where she met and married an expatriate. His son, Adenekan Ademola rose to become Judge of the High Court of Western Nigeria.
Affiliates
Adetokunbo headed the Reformed Ogboni Fraternity which was founded in 1908 as a Christianized form of the proto-Ogboni institution, a Yoruba town cult with legislative and judicial powers. He was a foundational member of the Island Club formed in 1948 in response to the racism of an elite Lagos hotel[1]. There, he robbed shoulders with the men like Ernest Ikoli, O.A. Omololu, Rev. A. Howells, and J.K Randle. He was a patron also of the Yoruba Tennis Club and member of the Metropolitan Club which met regularly at the organization's Victoria Island premises in Lagos.
 
Contemporaries
Adekunle Solanke, Head of the West African Student Union, received Adetokunbo when he arrived in London for studies in 1927. Also at hand to welcome him was Alaba Akerele, a lawyer and   notable Lagos leader. When he returned to Nigeria, he joined the newly formed Nigerian Youth Movement which consisted of many educated urban persons of his generation. Ademola shared with Nigerian Prime Minister of the day, Tafa Balewa's avowed commitment towards laying the bedrock of an esteemed judiciary, and it seem consequent of this that Nigerian judges like Sir Lois Nwachukwu Mbanefo, C.D. Onyeama, and Taslim Olawale Elias took on international engagements. Other judges in this class who were contemporaries of Adetokunbo were M.C. Gabriel Onyuike, B.A. Ajibola, T.A. Aguda, Egbert U. Udoma, and E.O Ayoola.
Education
Success in the Cambridge Previous provided a place for Adetokunbo in the university one year after his arrival in England. After three years at Cambridge's Selwyn College he was admitted to study Arts and Law, before proceeding to read for the Bar in London. He was called to the Bar in June 1934.
Bench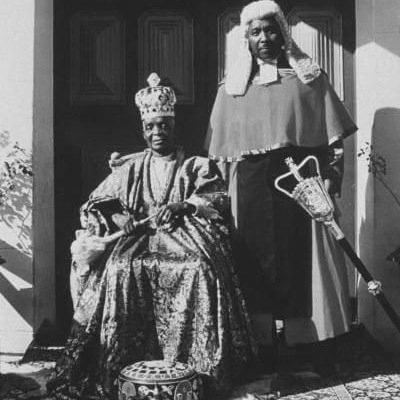 Adetokunbo's first engagement in Nigeria after he became a lawyer was in the public service. He served the Attorney General in Lagos before moving to the Judicial Department where he enjoyed the privilege of observing Magistrates as they preside in courts. Shortly, he joined the unified Nigerian Administrative Service and was posted to Enugu in the Eastern region. During the 1938 Lagos elections, he participated and developed an interest in politics that will prove ephemeral. His career in the judiciary will begin in 1939 with an appointment as a magistrate, a move which was criticized in the press for his lack of experience.
Although Adetokunbo had not the fiercest of judicial experience before this, his first assignment as a magistrate will be the one which prepared him most rigorously. In Warri, there were more criminal cases than should be for a single judicial division. The colonial government too was busied with the first World War, a condition which enabled malpractices to thrive locally. As though the challenge was not enough, his judicial circuit was extended to subsume the divisions of Kabba, Benin, and Ondo. After one year at St. Anne's Court, Lagos in 1946, he was seconded to the Eastern region in Opobo where he first acted as a Puisne Judge. He returned to St Anne's again, before a second deployment to Warri, from where he was appointed a Puisne Judge in 1949.
Decentralization of the judiciary, a move which Adetokunbo opposed in a written memorandum to the central government, led ironically to his appointment as Chief Justice of the Western Region in 1955. His selection, three years later, to the rank of the Chief Justice of Nigerian fell on a time when many facets of independent Nigerian policy was in its formative stage. He contributed therefore, to many characters of Nigeria's socio-political establishments.
Motivation
Adetokunbo was urged on to legal career first by his experiences as a child. While living in his lawyer uncle, Adeyemo Alakija's house, he was surrounded by law books. The same house was only few yards away from the old Supreme Court. It is not unlikely that he may have seen the likes of Alexandar Sapara Williams who lived across the street garbed in grand legal robe. The years after the first World War was prosperous for Lagos lawyers and celebrated cases like the deportation of Eleko Esugbayi in 1925, Water Rate payment, and agitation over lands underscored their importance.
Accomplishments
Sir Ademola Adetokunbo was the first African to be made a Bencher of the Middle Temple. As a magistrate in the St. Anna Court Lagos, he served on a committee for the revision of Supreme Court legislation and the rules of court. The Commission chaired by Sir William Fitzgerald in which he was co-opted was one of the most consequential for public administration in Nigeria. Recommendations by this committee made in addressing labour troubles at Enugu colliery is today the basis of the Nigerian Labour policy.
In 1949 when Adetokunbo was elevated to the High Court bench he became the youngest judge in the British West Africa. Four years later, he was appointed Chief Justice of the Western region, and when the federation was just two years away from self-rule, one year from when he was knighted in London, he succeeded Sir Stafford Foster Sutton to the position of the Chief Justice, a position he held till 1972.