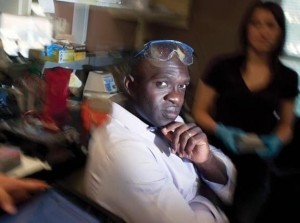 Yemi Adesokan; Nigerian scientist who developed an innovative form of diagnosis which could let doctors quickly and easily pinpoint features of a patient's infection. The method can, for example, help determine if infection is resistant to certain antibiotics, and prescribe the most effective treatment using DNA. This has been particularly used to successfully treat drug-resistant urinary tract infections. This led Adesokan to co-found a company called Pathogenica with the goal of developing commercial applications of this discovery. Adesokan, the CEO, expects to create a market for tests that use sequencing to detect the microbes behind infections.
Adesokan was a Research Fellow in Genetics in the lab of George Church at Harvard Medical School and a co-founder of a global, environmental and bio-surveillance effort, aimed at tracking emerging disease threats. Earlier, he obtained an undergraduate degree in Biology in 2001 from the University of Houston. As part of his doctoral thesis in theoretical chemistry at the University of California, Irvine, the scientist also worked on the development of new force-fields for biomolecular modelling. Adesokan spearheads a programme which includes the multi-drug resistant tuberculosis, TB, analysis and capacity building initiatives. In conjunction with Harvard University, Adesokan also co-directs the CEGS-MAP Initiative[i].
Adesokan was born in Lagos in 1977. He grew up in Okupe Estate Maryland, Lagos and had his primary education at Maryland Convent Private School, Lagos. He also went to Command Day Secondary School Ikeja from 1989 to 1994. He obtained a degree in Biology in 2001 from the University of Houston where as an undergraduate researcher he predicted the first HIV-Integrase/Viral DNA binding pattern. For a PhD in Theoretical Chemistry, he went to University of California, Irvine[ii].
 
[i] Newswatch Ocotber 3, 2011
[ii] Pharmanewsonline, February 6, 2020