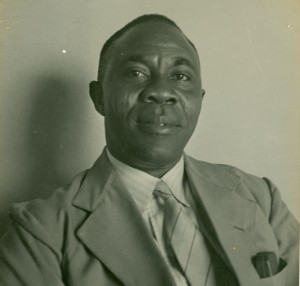 Timothy Adeola Odutola was a politician and pre-independence member of the Nigerian aristocracy. Born in June 1902 to a Muslim father and a converted Christian mother. In his time Odutola was among the few kids whose parents embraced education on their behalf, and the young Odutola started with St. Saviour's Primary School, then at Italupe. He was sent off to Ile Ife upon the death of his father in 1915, which led to a temporary halt to his education. Upon his return to Ijebu, he met Otubusin who was to become the Awujale of Ijebu. Otubusin encouraged him to go back to primary school, and he did, gaining admission into secondary school at the relatively mature age of 17. He was tutored under the influence of the famous Reverend Ransome Kuti at Ijebu Ode Grammar School. Odutola thereafter moved to Lagos where he served as a civil servant and where he also tried his hands on entrepreneurship.
Odutola's return to St. Savior's Church Ijebu Ode, engineered by otubusin in 1940 marked the end of the inadvertent monopoly of leadership of Ijebu church by the Egba since 1892. The power bloc that he formed together with Nathaniel Olusoga became the forum for defense of the measures being taken by the Awujale who in spite of his gross unpopularity, found sympathy in the church community. His relationship with Awujale Otubusin will temporarily sour. In those times the Awujale wanted him to be banished permanently from Ijebu province to non-Yoruba places.
Odutola represented the Ijebu Province in the Western House of Assembly between 1947 and 1950. He served in various capacities as a legislator. During Nigeria's early years of independence, he was a member of Senate, and he emerged as a member of the constituent assembly in 1978. He was honored with the Order of the British Empire (OBE) in 1948 and Commander of the Order of the Niger (CON) in 1982. Adeola Odutola died in 1992.