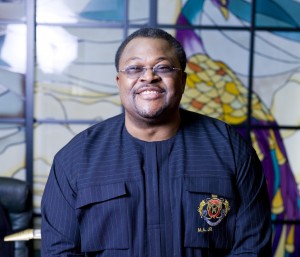 Michael Adenuga is the Oil magnate owner of Nigeria's second largest telecommunication company, Globacom. Adenuga was born 1953 in Ibadan to schoolteacher father from Ijebu Igbo, after whom he was named, and businesswoman mother who gave him the seed capital for his venture which made him at the age of 26, a millionaire. He was educated at the Ibadan Grammar School before proceeding to the North-Western University in Oklahoma and Pace University, New York, where he studied business administration. On a trip to New York, an Austrian businessman, owner of one of the biggest lace manufacturing factories in Austria had talked him into business. When he returned, he took over the management of the family's small sawmill, progressively delving into diverse, sometimes unrelated businesses.
During military president Babangida's regime, a policy to encourage private participation in oil exploration and exploitation was introduced, hence making possible the licensing of individuals. Adenuga was one of the first beneficiaries of the Petroleum Act. While many, daunted by the risk, sold their licenses to expatriates, Adenuga set to work, sinking over $100 million into his own oil prospecting and drilling company. In the shallow (offshore) waters of Ondo State, his company, Consolidated Oil, became the first indigenous company to strike crude in December 1991. Under the General Sani Abacha regime, his Communication Investment Limited (CIL) was given a conditional licence and frequencies to operate the Global System of Mobile Communications (GSM). After facing stiff opposition and losing money in the struggle, Adenuga emerged with Globacom Limited, when in 2002, the government organised new auction for licence.
Mike Adenuga was arrested in July 2006 by operatives of the Economic & Financial Crimes Commission (EFCC), also the Federal Inland Revenue Service (FIRS) once sealed up his oil companies for allegedly evading taxes. Through his company, he is involved in sponsoring of Nigerian sports, as he is, as individual, involved in philanthropy. The bull symbol commonly found in his properties apparently had to do with the title he was given at birth because of his size, "John Bull".