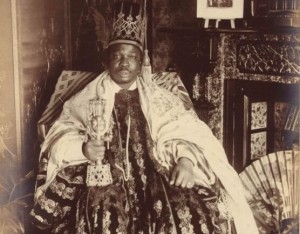 Ademuyiwa Haastrup was a flamboyant Lagos auctioneer and Local Methodist church preacher in Remo. Haastrup was an Ijesha prince with some maternal connections with Akarigbo Oyebajo. He was born to an Ifa priest in 1863 but was adopted as a child by Christians, hence his name, Joseph Pythagoras Haastrup. He later took a native name, Ademuyiwa, in the wake of the cultural rebirth that swept through the country in his time. In Remo affairs, he was an important figure and the British consulted him in Lagos whenever a decision concerning his area was to be reached. He was instrumental in the preservation in Remo, of Òsùgbó and Orò societies, considered by some to be culturally retrogressive.
Though criticized by certain historians as mental and cultural purveyors of British imperialism in his fatherland, Haastrup was convinced and he correspondingly convinced Akarigbo Oyebajo, the Head of Remo, of the benefits of the missionary. In 1892, he provided initial funds and led the Methodist missionary party to Shagamu through Ikorodu. In the following year, he took Rev. Ricketts to Agbowa, an Ijebu town, and encouraged the white missionary to settle there. He deployed his weight in preventing the inclusion of Remo into Ijebu-Ode's defeat by the British in 1892. This he achieved by convincing the colonial office that assimilation of Remo to the British Empire could only be justifiable if the chiefs and the people could be found wanting in their humanity and institutions.
Haastrup later negotiated Remo's inclusion in the British Empire on favorable terms. His influence did extend beyond his area and he was able to win the friendship of the Owa of Ijesha whose palace was used as the cradle of evangelism in the province. His 9, Custom Street, Lagos residence was site of the first Divine Service of the new church that was formed from the Wesley Methodist Church during the Ethiopianist movement of the time. Haastrup was bestowed with the royal honorary title of Otunba in 1893.