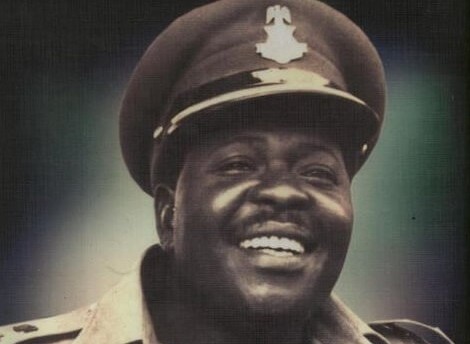 Adekunle Fajuyi was a soldier and hero of the Nigerian 1966 retaliatory military coup. On 29 July, Fajuyi volunteered to die with his boss, Aguiyi Ironsi, who was Nigeria's first military Head of State when the aggrieved elements in the military, led by TY Danjuma called. He is believed to have said to his boss, "Mark my words, whatever happens to you today, happens to me."
Fajuyi was born 26 June 1926 in Ado-Ekiti. He joined the Army in 1943 as a non-commissioned officer. Trained at the now defunct Eaton Hall OCS in the UK in 1954, and soon became the toast of his superiors and colleagues for his brilliance and commitment to duty. In 1951, he was awarded the British Empire Medal for helping to contain a mutiny in his unit over food rations. Also, he was decorated with the Military Cross award in 1961 for rescuing his 4QONR unit from ambush while serving under Lt. Col. Price as 'C' Company Commander. Fajuyi was the first indigenous Battalion Commander of 1st Battalion in Enugu until January 1966 when he was re-assigned to Abeokuta as a Garrison Commander.
Following the bloody overthrow of Tafawa Balewa's government, the mantle of leadership fell on Ironsi, who was the most senior member of the military but who never participated in the coup. With Ironsi in power, Fajuyi became on 17 January, 1966, the first Military Administrator of the Western Region. Following the state visit of Ironsi to the city of Ibadan, which was Fajuyi's headquarters, on 28 July, Fajuyi had prevailed on his boss to spend the night. In that night, when Danjuma and his team swooped on them, Fajuyi had failed to plead for Ironsi's life, hence defiantly asked to be killed. Some three decades after, a house was built for his widow by Lagos State Governor, Bola Ahmed Tinubu. A park in Ado-Ekiti is being erected in Fajuyi's honour.