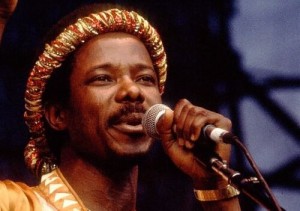 Adegeye Sunday; or King Sunny Ade is one of the most recognizable brand in Nigerian music, who with his unique Juju brand carved a long career that is successful.  His music was famous for its multi-layered percussion, electric guitars and synthesizers, as well as the close harmony of his all-male vocalists. KSA achieved fame internationally and was nominated for the prestigious Grammy awards. He engaged in musical collaborations with artistes like Stevie Wonder and Manu Dibango. Sunny Ade was also famously signed on by Island Records, who were looking for a successor to Bob Marley.
After copying I.K. Dairo and Tunde Nightingale in the early years of his career, Suny Ade decided to have an identity and style of my own so as not to be in competition with those who emulated Dairo particularly. He wanted to dance like James Brown and Victor Uwaifo, his idols at the time. Over the years, Sunny Ade has honed his skills that he Is in some quarters, regarded as "the king of world of beat"[i].
 
Places of Growth
Born in 1946 to a church organist and a trader in Ondo town, Sunny Ade was the son of a church organist and a trader. Being so fascinated by music he left Ondo for Lagos, then the hub of a thriving mix of different musical genres under the pretext that he was going to further his education.
 
 
Contemporaries
In his heydays, Sunny Ade's music was rivaled by those of other Juju stars like Ebenezer Obey, Dele Ojo and Admiral Dele Abiodun others. KSA stood out undeniably for the immediacy of his lyrics, his outstanding guitar-playing, and the exciting syncopation of his live performances.
Music
In 1963, KSA joined the Sempiro Band, and later that year, was a samba player in the highlife band of Moses Olaiya. He changed his style from the flourishing highlife to juju in 1964, amplifying the guitar which combined traditional percussion with innovative melodies to produce a musical genre that was hugely popular in Nigeria's south-west. By 1967 he had achieved enough success to set up his own band, called the Green Spots.
From the late 1960s to 1990s, KSA released albums which became hits in parts of the world where the Yoruba language is understood. His albums, Ewu Ijamba Moto (1967), FESTAC '77, Otito (1985) and The Way Forward (1966) were testaments of his increasing importance in the social construct of the country, which inevitably nudges him to lend his voice in debates about the progress of Nigeria and its people. His first hit single for Adebajo Babes Football Club for winning the Challenge Cup in 1968, the record sold 500,000 copies. He is one the musicians with the highest number of records — more than 100 albums to his name.
 
Motivation
Tunde Nightingale and I.K. Dairo were the early models of Sunny Ade, whose style could be traced in Challenge Cup, and 1967 albums like Alanu L'Oluwa, Colonel Adeyinka Adebayo and Omo Oba Sijuwade. Like his models, his songs reflected the era's bewildering mix of optimism, dismay and hope that Nigeria would overcome its social, political and economic challenges.
 
[i] Tell January 5, 1998