Ogunlesi Adebayo; Investment Banker and Lawyer, member of the short-lived 16-man American Economic, Strategic and Policy Forum under President Donald Trump was trained in Harvard University, serving as an editor in the Harvard Law Review as student. He worked as a law clerk to a Justice, and attorney in a New York law firm. After acquiring a MBA, Adebayo commenced a career in investment banking. His independent investment fund has the Gatwick, Edinburgh, City Airport of London, and the East India Petroleum in its asset lists. With other major acquisition deals in his portfolio, Adebayo is recognized as one of the most successful Africans in the New York business climate .
 
Origin
Adebayo's grandfather, Daniel, a blacksmith and farmer, was a member of the traditional aristocracy in Makun. His family, being one of the earliest to join the church in Remo, lived a life that was centred around ecclesiastical activities. Ogunlesi Alagbede section of Makun, Sagamu where Adebayo originated from produced one of the most renowned chemists and druggists in Nigeria who founded the Broadway Chemists. His own father, Theophilus Ogunlesi was the first Nigerian professor of medicine.
Growing Up
Adebayo was born in 20 December, 1953, months after his medical doctor father commenced a career at the Western Region Civil service headquartered in Ibadan. Sagamu where his family originated from is about 80 kilometres away, also close to Lagos where he had his secondary education. After this, he travelled to the United Kingdom for his undergraduate studies.
Travels
Adebayo went to the United States to study in Harvard when it was yet uncommon for students who are educated abroad to gain entrance.  After this, he moved to Washington DC, where he had his first stint as a lawyer. He later settled in New York. In his post at First Boston where he first worked as an investment expert, Adebayo travelled to North and South America, the Caribbean, Europe, the Middle East, Africa and Asia, brokering deals among lenders, governments, and firms to build projects in so called emerging markets.
 
Relationships
Childhood
Adebayo was born whilst his father administered a government hospital in Ibadan. His mother, Susan Olorunfemi Peters was a tutor at the CMS Girls' School located at Broadway in Lagos . He grew under Christian precepts, which his parents in turn decidedly learned from his grandfather who was among the key church players in Sagamu.  This was complemented with his life at Abidina Primary school of the University of Ibadan, populated by children of junior staffs of the university. His secondary school education was at King's College Lagos, where he was up till the sixth form.
Family
Adebayo grew up with parents who attained high status through education, hence it was imperative for him to follow suit. Among his six siblings, a man and five ladies, is Folasade Ogunlesi, a paediatric pulmonologist in Washington DC . In 1985 Adebayo got married to British-born Amelia Quist, an optometrist who was educated in London before moving with him to practice in New York in 1993 . Being a lady of commensurate intellectual endowment, Amelia shares the credit, as suggested in one of Adebayo's interviews, as one of his inspirations. Her observation in 2006, about his work life led to his decision to found the Global Infrastructure Partners with five other persons, a firm which will in a decade have 21,000 persons in its employ . Together, they raised two sons.
Affiliates
Adebayo served as adviser, albeit informally to President Obasanjo on privatization. Between 2009-2014 he was the non-executive chairman of Andrew Folorunsho Alli-led Africa Finance Corporation, an African led financial institution involved in the financing of critical infrastructure in member African nations.
 
Contemporaries
In 1972, Adebayo was admitted to Oxford alongside King's College Lagos colleagues Femi Ogunsanwo who went ahead to become a journalist and author of biographies, Udoma Udo Udoma, lawyer who joined politics to become a senator of the Federal Republic of Nigeria in 1999 and federal Minister of Budget and Planning in 2015. Also a colleague of Adebayo was Kim Bello-Osagie, a businessman. In Harvard Law School his third-year paper was submitted to C. Clyde Ferguson, American professor of law who served as American diplomat coordinating relief to civilian victims during the Nigerian Civil War. Shortly after Harvard he worked as a law clerk to the United State's first black African-American Associate Justice of the Supreme Court, Thurgood Marshall whom he described as a fantastic person who changed the arc of history . In his career as investment expert Adebayo would go ahead to join the ranks of business executives like Elon Musk of the Tesla automobile firm, and Jamie Dimon of JPMorgan.
 
Education
With a first-class honours BA degree in Philosophy, Politics and Economics earned in Oxford University in England, Adebayo went to Harvard where he earned both the JD magma cum laude from the Law School and a MBA from the Business School.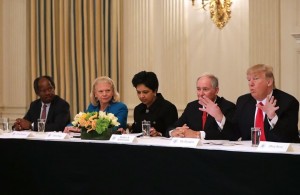 Career
After clerking Justice Marshall, Adebayo settled to law practice in New York, then joined investment firm, First Boston when his high school friend introduced him to an ongoing Nigerian gas project in 1983. He subsequently switched from the role of the legal consultant to financial analyst. He headed the Global Energy Group of the corporation now Credit Suisse First Boston from 1997 till 2002 when he was named head of the Investment Banking Division. Two years later he was named the Chief Client of the company before he jointly started his own private equity firm called Global Infrastructures Partner (GIP). Notwithstanding his meagre experience in investment at this time, he was able alongside his co-founders to persuade Credit Suisse and General Electric to invest.
 
Motivation
Although Adebayo studied law, and never wanted to be an investment banker , he appeared in his testimony to be fascinated by numbers, pointing out that he thought his aversion to it might hinder his success . After legal consultation with the First Boston on a project, he stayed on board to be part of the world of international finance. Adebayo believes his greatest achievement in business world is watching young people grow and become peers.
 
Accomplishment
Adebayo graduated top of his class in King's College Lagos before his time in Oxford, where he also landed excellent grade. While studying for law and business degrees in Harvard, he edited for the prestigious Harvard Law Review. He achieved wide publicity when the GIP which he helped start after two decades in the First Boston acquired London's Gatwick Airport. Accolades followed therefore, the spotlighting of his long-standing ethics which had helped put CFSB on its feet with his belt-tightening advances in his first year as Head of the company's division of the Global Investment Banking. Adebayo was listed among Time's 2002 most promising young executives of global influence and Fortune pronounced him the seventh-most powerful black executive in the United States. He is profiled in Black Enterprise's Who's Who on Wall Street.