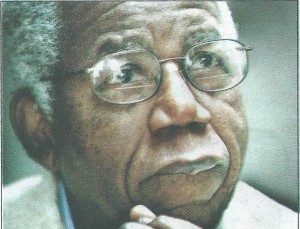 Chinua Achebe; Nigerian novelist who during the Langston Hughes award in 1993 was praised as the man who through clouds and mists saw the life of the people, whose vision was sharpened by careful watching, uplifting the people of the world's villages by his vision. Achebe, a professor of English, won the Commonwealth Poetry Prize in 1972. As a 28-year-old broadcaster in 1958, Achebe introduced the world to what is contemporarily known as African Literature through Things Fall Apart. Achebe won the MAN Booker International Prize in 2007 and the Medal of Honour for Literature by the Arts Club of the United States. He was named among the TIME Magazine's 100 Most Influential People in the World and named one of the 100 greatest Africans of all-time by London-based New African Magazine[i].
Accorded uncommon adulation by Nelson Mandela, Achebe, a star among stars stirred controversies with his last book, There Was A Country, which was a reflection of the Nigerian Civil War, fought four decades earlier. His legacy however is much vaster than the controversies engendered by that book, just as it is also absolutely unconstrained by the Nobel Prize that was not awarded to him[ii].

Places of Growth
Born in November 16, 1930 in Ogidi, now part of Anambra State, Achebe between 1944 and 1953 started displaying his literary talents and imaginative power during his days at the Government College, Umuahia.

Books
Achebe's novel of 1958 remains the most popular though Achebe had in his repertoire other great works like No Longer At Ease, Arrow of God, A Man of The People, Beware Soul Brothers, Mithills of The Savannah, a collection of short stories. Achebe is a one-time professor of English, at both University of Nigeria, Nsukka, and University of Massachusetts, United States.
Following an automobile accident along Lagos-Ibadan expressway in 1990 which left him permanently confined to a wheelchair he participated in the Nigerian Second Republic politics by joining Aminu Kano led party. Later, he released a book, The Trouble With Nigeria where he identifies the issue of leadership as Nigeria's major problem. Achebe rejected in October 2004 a presidential national honour bestowed on him to convey his displeasure over some of these problems especially due to what he called the disturbing political situation in his home state.

Awards
Chinua Achebe is a recipient of the Margaret Young Memorial Prize, Nigerian National Trophy award, Jock Campbell New Statesman award, Commonwealth Poetry Prize, Fulbright Fellowship Award. He was also a director of the Nigerian Broadcasting Corporation NBC and Editor of the Heinemann African Literary series. He holds honorary doctorate degrees from Universities of Sterling and Southampton, both in England, Doctor of Letters; University of Massachusetts and a doctorate degree from University of Cape Town, South Africa[iii].

[i] Tell November 17, 2003
[ii] Nations May 26, 2013
[iii] Insider November 18, 2002