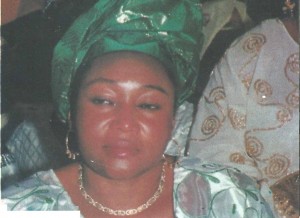 Kudirat Abiola; Pro-democracy activist and wife of MKO Abiola who was widely believed to have won the June 12, 1993 presidential election that was cancelled by the military. Kudirat was bom in 1951 in the northern Nigerian city of Zaria, where she also had her early education. From her times at the Muslim Girls High School, Ijebu Ode, she had evinced a uniqueness which qualified her for the position of the Head Prefect in her final year[i].
Kudirat married Moshood Abiola in 1972 and had with him seven children. Spurred by circumstance of her own history, Kudirat adopted many social causes, and became among other things a prime supporter of the educational programs of the Ansar-Ur-Deen movement in Nigeria. She was also a successful businesswoman, building a pharmaceutical company, amongst many other businesses, into a notable name in Nigeria.
Though preferring a domestic life, the military's annulment of the June 12, 1993 presidential election, which her husband had won, brought Kudirat into the pro-democracy movement. In 1994 her husband was incarcerated and kept in solitary confinement for claiming his presidential mandate at a speechmaking party in Epetedo, Lagos. In defiane to General Abacha's growing ruthlessness, Kudirat provided clear leadership in the period when pro-democracy activists sought asylum secretly. Convinced that the military's actions amounted to a violation of the fundamental right of Nigerians to elect their government, she presented herself as a face of the opposition.
Kudirat Abiola was actively involved in moving and sustaining the oil workers twelve-week strike against the military. The strike, which succeeded in isolating and weakening the government in 1994 was the longest in African history by oil workers. She also joined nationalists like Anthony Enahoro in December 1995 in the forefront of the march for freedom in Lagos sometimes braving attempts of government forces to intimidate them. Kudirat was charged with conspiracy and making false statements. But a Lagos High Court acquitted her of the charges of conspiracy and making false statements. Again on 28 May 1996, she was charged with the offences and the Lagos High Court ordered her release or bail to await trial on 17 July. Despite this harassment Kudirat Abiola continued he: outspoken campaign on behalf of her husband. Her proposed trial never held, Kudirat Abiola was assassinated in the streets of Ikeja on 4 June, 1996[ii].
 
[i] Daily Sun June 4, 2012
[ii] The News March 31, 2008