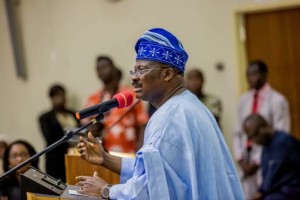 Abiola Ajimobi is a politician, born into a local political family in 16 December 1949 in Ibadan, about the time Awolowo's Nigerian Tribune was established. His grandfather was an important Ibadan chief, and his uncle a Western Region Minister. His father too was a member of the House of Assembly.
Ajimobi had his secondary education at Lagelu Grammar School and then studied Business Administration and Finance at the state University New York, in Buffalo, New York and the Governor's State University, Park Forest, Illinois. His Masters' degree was in Operations Research and Marketing. Before returning to Nigeria in 1977, he had become a state certified underwriter by America's second largest insurance company, the Equitable Life Assurance Corporation.
In Nigeria, he worked with a Management and Industrial Consulting firm, then an architectural firm, as the Finance and Admin Controller. He also worked as the Nestle Foods Operations Controller and Marketing Controller. Ajimobi joined the National Oil and Chemical Marketing Company in 1979, the youngest to so do. Through the 26 years in the oil industry, he rose quickly through the ranks to of the first oil company he worked and of the Shell Oil Company, which he joined in 1987 to become in February 2001, the Chief Executive Officer of the National Oil and Chemical Marketing Company, a subsidiary of Shell.
After his professional career, Ajimobi, like his father, joined politics, becoming a senator of the Federal Republic in 2003. In 2007, he vied unsuccessfully for the governorship of his home state of Oyo under the then ANPP, but was eventually elected governor, four years later under the flag of the ACN. Ajimobi's effort at revamping especially the large city of Ibadan has been acknowledged.