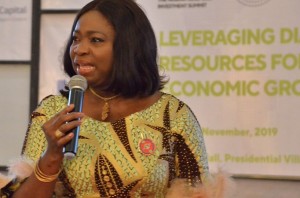 Dabiri-Erewa Abike; Member, Nigerian House of Representatives of the 4th to the 6th Assembly and at different times, Chairman of the House Committees on Diaspora Affairs and Media and Publicity respectively.  Dabiri-Erewa was first elected into the House of Representatives to represent Ikorodu Constituency of Lagos State in 2003 and reelected in 2007. She also won re-election in 2011.
As a federal legislator she passed the Freedom of Information Bill; a bill for an act to ensure full integration of Nigerians with physical disabilities and eliminate all forms of discrimination against them; the Nigerian Infant Health Welfare Bill (ensuring every child under five receives free medical care); Nigerian Diaspora Commission Bill; a bill to repeal Nigerian Press Council Bill and replace it with the Nigerian Press and Journalism Council Bill (strengthening the NPC and promote responsible journalism and protect the welfare of journalists in Nigeria)[i].
Origin
Born in October, 1962, Abike Dabiri is from the Erogbogbo family of Ikorodu in Lagos State.
Family
Abike, formerly divorced with two sons, re-married in July 2007; Segun Erewa, an international businessman after a one and a half year of courtship.
Education
Abike got her first degree from the University of Benin and obtained her Master's in Mass Communication from the University of Lagos. She also studied at the Kennedy School of Government, Harvard University, US.
Contemporaries
Jumoke Okoya-Thomas who was Abike's colleague from Lagos at the House, is the daughter of Molade Okoya-Thomas, a Nigerian foremost industrialist. Together with Abike, an alliance was forged that  brought Lagos to the forefront on the House's deliberations during the face-off between the Presidency and Lagos State over withheld funds of local governments in Lagos State[ii].
Experience
Abike Dabiri-Erewa was a Board member of the Lagos State Broadcasting Corporation before she became a lawmaker in 2003.
[i] Punch May 2, 2015
[ii] Newswatch September 10, 2007