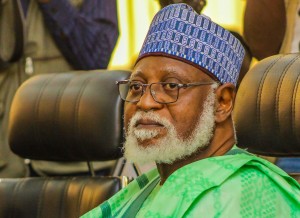 Abubakar Abdulsalami; Nigerian military Head of State from 1998 to May, 1999. Following the mysterious death of Abacha on June 8 and a month later of Abiola, the undeclared winner of the presidential elections five years before, the emerging General Abdulsalami Abubakar's administration considered it expedient for a Yoruba to emerge as president ostensibly to assuage the feelings of the South- west people[i]. Abacha's death paved the way for the emergence of General Abubakar whose policies opened up the political space. Accused officers of the 1995 phantom coup were pardoned with their dismissal commuted to compulsory retirement. Several political parties were quickly formed to compete for elective offices[ii]. Abubakar transferred power to the newly elected president, Olusegun Obasanjo, ending the 14-year old third military interruption of Nigerian democracy.
 
Places of Growth
Abdulasalami was born June 13, 1942 in  Minna, second child in a polygamous family of ten children. Formal education commenced for him at at Native Authority Primary School in  Minna, before he went to the Provincial Secondary School in Bida, and then the Technical Institute, Kaduna.
Contemporaries
Abubakar was the military secretary under General Babangida while Olu Falae was the secretary to the government. When he was the military Head of State, Okhai Mike Akhigbe who was a Vice Admiral,  former Chief of General Staff, and ex Lagos State military administrator deputized him.
Family
Abdulsalami's wife, Minna-born Fatimah was attorney-general and commissioner for justice, Niger State and member, Constitutional Review Committee. They were married in 1972 and had six children together[iii].
Regime
The government of Abdulsalami Abubakar ordered an international autopsy, which turned, in a verdict of cardiac arrest. For a while, the autopsy report allayed public fears[iv] and Abubakar retained his goodwill so well that he went to America's While House to visit the sitting American President in Nigerian military uniform[v]. Accused officers of 1997 alleged coup plot against General Abacha were released from prisons in 1999 by the General Abdulsalami Abubakar regime. Adopting mostly the 1979 constitution, Abubakar supervised a transition to democratic government within one year.
 
Post-regime
General Abubakar was bestowed with Ghana's highest honour of the Star of Ghana for the role he played in restoring normalcy to Liberia and Sierra Leone as well as his contribution to the cessation of hostilities in Guinea Bissau[vi]. Abubakar was named Chairman of the Commonwealth Eminent Observers Mission to the Parliamentary Election in Zimbabwe. Leading a 44-person disparate group from 25 countries[vii].
[i] ThisDay June 12, 2003
[ii] Punch May 30, 2015
[iii] Newswatch Who is Who
[iv] TheNews March 31, 2008
[v] Punch June 9, 2013
[vi] Tell May 22, 2000
[vii] Vanguard October 30, 2016