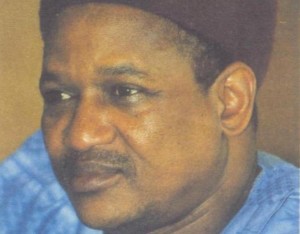 Abba Ibrahim; Nigerian politician. Bukar won accolades with his uncommon gesture of appointing Yoruba and Igbo advisers and assistants- Nigerian tribes not indigenous to his state as governor. He was the first executive governor of Yobe State, a position he returned to with the return of democracy to Nigeria in 1999. became the first governor of Yobe State when he stood elected  in 1991 same year the state was created, having defeated the intimidating power of the ultra-conservative National Republican Convention. NRC, with traditional political heavyweights such as the likes of Adamu Ciroma in the state. During Ibrahim's brief sojourn as the first executive governor structures of socio-economic significance were conceived and executed in historical rights and dignity. Consequently, he  was overwhelmingly elected and reelected governor of Yobe State in the 1999 and 2003 elections.
Places of Growth
Abba was born on October 1, 1950 in the ancient town of Goniri, in Gujba Local Government area of Yobe State of Nigeria. After completing his primary education in his native town  Goniri. He spent the next five years (1965.-1970) at the Government College, Maiduguri.
 
Education
Between 1970 and 1972, Ibrahim was at  Ahmadu Belio University, ABU, Zaria for the preliminary science course. He obtained his Bsc degree in Quantity Surveying in 1975 from the Ahmadu Belio University, ABU, Zaria.  Between 1980 and 1981, he was in the United Kingdom for a post-graduate training in Quantity Surveying.
 
Contemporaries
Ibrahim slugged out the elections of 1991 with some intimidating figures of the conservative National Republican Convention, NRC such as Adaitiu Ciroma.
 
Affiliates
Abba Ibrahim headed the Hockey Federation of Nigeria for a long time.
 
Motivation
In 1976 when he had offers from good corporate entities, Abba chose to stay home and make change
Experience
When he finished the mandatory national youth service in 1976 as a young graduate, Ibrahim  was the only quantity surveyor in the old Borno State. He was therefore involved in many projects that was Executed in the sate, including road construction, electrification, water projects, schools, dispensaries, the University of Maiduguri itself, the Ramat Polytechnic and later on the Federal Polytechnic in Damaturu. Abba Ibrahim worked as a pupil quantity surveyor in old Borno State Ministry of Works, Housing Transport, Land and Survey which he joined in 1976. As the only qualified quantity surveyor in the ministry, he became a head of department from his first day. Ibrahim later became a principal and ministry's chief quantity surveyor. He opted out of public service temporarily in 1982 to co-found a private engineering firm. He was appointed the Borno State Commissioner for Works, Land and Survey between 1985 and 1988.
Ibrahim got elected in 1991 general elections through the platform of the Social Democratic Party, SDP to become the first executive governor of Yobe State. In his first time as governor though spanning less than two years, he built hundreds of housing units, over 100 new primary schools. 15 new secondary schools, and office complexes. So strong were those legacies that he was elected again in 1999 and 2003[i].
 
[i] Tell June 12, 2006