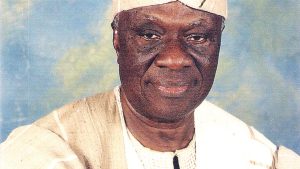 Abayomi Oshin; first African to be trained as a physiotherapist. Oshin started the Physiotherapy department in University of Ibadan in October 1966 and degree programme is offered. Before he left in 1990, over 300 had graduated with degree certificates. Some of them became professors in the field, working all over the world. Born in Ijebu-Ode on July 30, 1926, his parents had been in Kano State since 1920 but his father wanted him to be born at home so his mother travelled home to be delivered of the baby she was carrying. Oshin attended elementary school between 1932 and 1940 in Kano before gaining admission to Baptist Academy Grammar School, Lagos in 1941. His aunt persuaded his father to allow him go to Lagos. In the school, he was an active pupil. He was a member of various academic clubs; the literary and debating society including Boys Scout.

Places of Growth
While in Kano, Oshin was a member of the United Native African Church choir. His father later encouraged him to learn how to play musical instrument for the church. A Ghanaian organist taught him and he later became assistant organist in the church. He also joined the Boys' Brigade. There were many activities but kids always looked forward to the Empire Day on May 24. It was a day the British remembered the colony. Pupils from various schools would dress properly for match past. He also enjoyed farming in Kano. They were given some plots of land to plant groundnuts and potatoes in school. He enjoyed sack and wheel barrow races.

Motivation
Oshin was at the Baptist Academy Secondary School in Lagos, and he used to visit the United States Information Service library to look through foreign newspapers. One of them had a space for pen pal that allowed readers to make friends abroad and communicate with them. A lot of foreigners wanted to know about Nigeria and locals were also anxious to know about Britain and the US. Oshin became a friend of an elderly woman, Mrs. Powell. She was around 50 at the time. She asked a lot of questions about Nigeria but his interest was the kind of profession he could go into. In one of their correspondences, Powell told Oshin about physiotherapy which was not existent in Africa generally at the time. He did not know what it was all about. She sent him brochures and he got fascinated by it. Oshin's father had wanted him to study law but when the lady introduced him to physiotherapy he made up his mind to go ahead with it.
Oshin's parents were in Kano while he stayed back in Lagos to work after his Senior Cambridge Exanimation in 1946. He worked at Lands and Survey Department, Lagos, as a draftsman. One day in 1949, he went to them and told them that he was going to London to study physiotherapy.

Travels
When in America for studies, Oshin witnessed a lot of racism against black people. He stayed with a cousin who was studying printing technology when he got there, before he arranged for his own apartment. To get accommodation as a black man in the 50s was difficult. The white landlords slammed the door against the blacks who approached them even when it was advertised that accommodation existed. The whites did not sit with blacks on the bus, they preferred to stand. In restaurants, blacks were not served. They made fun of Oshin and his kind. They would run to him and ask one for the time and when he looked at his wristwatch, they would tell him to look at the sky, meaning that black man follows sky movement to know the time. When Oshin went back between 1960 and 1965, he met a changed America. The relationship between the whites and black people had improved well.

Family
Oshin got married in London before returning home. His wife who trained as a nurse in London usually visited her former teacher, Mrs. Adesanya, who also lived in London, to spend her off duty with her. Adesanya was his wife's teacher at Abeokuta Girls' School. One day, he paid a visit to Adesanya and met his wife there. They attended the same church in Lagos but were not friends. Oshin made enquiry about her from her host and relayed his interest in befriending her. They got married on September 25, 1954 in a London church after three years of courtship. Oshin left her in London to complete her study while he returned to Nigeria. She also returned to Nigeria to work at the UCH.
None of Oshin's children studied physiotherapy. The eldest of them, Segun, studied Medicine at the University of Ibadan. Until 2015, he was the Pro-chancellor and Chairman of the Governing Council, Olabisi Onabanjo University, Ago-Iwoye, Ogun State. Another one, Toyin, studied Law at the University of Lagos, Enitan also studied Medicine while Wole is in insurance business after studying Actuarial Science at the UNILAG.

Physiotherapy Career
Because he was the first African to study physiotherapy, Abayomi Oshin granted a lot of interviews to the British Broadcasting Corporation where he spoke about the expected impact of his experience on Africans and in Nigeria. The University College Hospital in Ibadan was under construction at the time but it had an office in London. When the management heard about him, he was invited and offered a job. UCH started somewhere in Adeoyo in Ibadan before moving to its permanent site. At the time, all the workers of the UCH were whites. Oshin's fare ticket home was paid for by UCH which gladdened his heart. On January 10,1955, he started work in UCH before the hospital moved to its new site in 1957. When Oshin began work he was among the dozen black workers in the hospital. Professionally, the relationship with the white health workers was fantastic[i].

[i] Punch, July 31, 2016