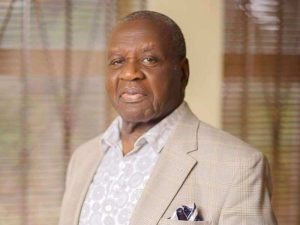 ATTAH, Obong Victor Bassey; architect, politician, member of 1994 constitutional conference and Technical Panel of Investigation on collapsed buildings in various parts of the country was born on November 20, 1938 at Ikot Akpa Ndua, Asutan Ekpe, Ibesikpo Asutan LGA. Attah Obong attended Hope Waddel Training Institute, Calabar; Nigeria College of Arts, Science and Technology (now Ahmadu Bello University, ABU); Leeds College of Arts, School of Architecture and Columbia University, New York[i].  Attah was  a member of Architects Registration Council, Practice and Ethics Committee, and fellow, Nigerian Institute of Architects. He co-cofounded National Centre Party of Nigeria, NCPN, later defunct. Attah was elected governor of Akwa Ibom state under the People's Democratic Party, PDP[ii].
As governor,  Attah made a whooping investment in the strategic window created by the introduction of Global System of Mobile, GSM, Telecommunications in the countiy in which his government  invested (US)$67.5morN6.7 billion in the Econet (later V-Mobile) network. Against the background of a total dependence on an analogue telephone system which had served the state, the investment in V-Mobile forced the immediate roll out of the service in Akwa Ibom making Uyo, the state capital, to become one of the first four cities in the country, where the GSM service was available, benefiting local people immensely in the interim as businesses that could not be a
Attah belonged to the ruling party in Abuja and made friends across the country. In honour of Abraham Adesanya, he reiterated his admiration for the  leader of the Yoruba as he noted that Ibibio State Union, which he informed the conference, predated Yoruba's Afenifere and Igbo's Ohanaeze,  was no longer in existence, a glitch which he promised to correct[iii].
[i] The News, November 24, 2003
[ii] Insider, November 25, 2002
[iii] Wetserner, May 11, 2009